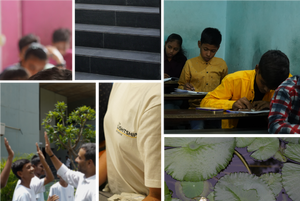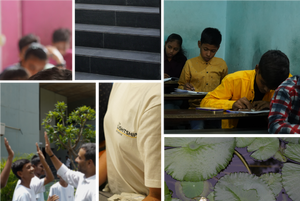 The Lightship Initiative is a non-profit that identifies, supports, and develops academically gifted students from underprivileged backgrounds to give them a chance at realizing their potential. The word "Lightship" references the Star Trek series as a means to escape from a world into a better one.
how it all started
Over his career, Kunal has seen several successes to firmly believe that "life cannot be predicted; you just have to be ready and keep your eyes and ears open for the overlap of opportunities and serendipitous moments."
During a brief encounter with a delivery courier, Kunal found that both of their daughters attended the same private school. Thanks to the Right to Education (RTE) initiative of the Government of India, Pinky, the daughter of the delivery courier, had a chance to graduate from one of the best schools in Ahmedabad and be at par or better than his daughter Anushka.
A delayed meeting led to a conversation between Dilip Bhai and Santosh Bhai, a gardener at an office building. Santosh Bhai had to send his brilliant teenage son back to his village to care for his wife and aging parents. The boy would never face his true destiny because he would not get access to the educational resources in the city.
Everyone wants to help India's poor
Most initiatives and programs designed to support the poor provide immediate or short-term benefits and thus only marginally better lives. Poverty is a shackle that is virtually impossible to break. It continues, one generation after another, grinding away at life. In the midst of this grim, there are instances of brilliance. Children who have been gifted with great gray matter. These kids offer a chance to break away and lift their families out of this despondency. Proper education is the key that can unlock their future.
one child, one aspiration at a time
The Lightship Initiative is designed to identify highly intelligent underprivileged children through a rigorous selection process and then take responsibility for their complete development till they graduate from college. This involves a 360° intervention, from education support to music, from English to personality development, from a structured mentorship program to internships, from sports to summer programs; identify their areas of interest and help them prepare and excel in competitive exams; and get admissions in reputed colleges whereby on graduation they have great career opportunities open to them.
It is our hope that every child that is nurtured through the program can in turn impact 100 more lives in turn—help them break out of their cycle of poverty. TLI is designed to be a collaborative effort involving patrons not only as financial sponsors but also engaging through resources of mentorship, the contribution of electronic gadgets, knowledge sharing, availability of volunteers, etc.