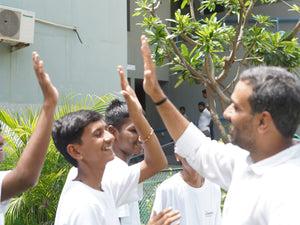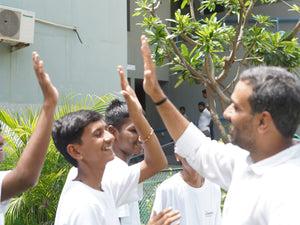 Our 8 TLI Scholars, the batch of 2022
Designed to be change makers!
"We write our own fate" is often heard of as a statement, but seldom applied to real lives.
The Lightship Initiative is designed to equip brilliant minds, one child at a time, one aspiration at a time. It is designed to identify highly intelligent underprivileged children from grade 8 through a rigorous selection process. And then take responsibility of their complete development from grade 9 till they graduate from college.
This involves a 360° intervention, from education support to music, from English to personality development, from a structured mentorship program to internships, from sports to summer programs; identify their areas of interest and help them prepare and excel in life.
Darshil Patel
Our little sports enthusiast!
Currently studying in grade 9, this one loves playing games such cricket and volleyball, but kho-kho is his favourite! He also loves watching informative YouTube videos. He wants to go to IIM when he grows up and become a managing director, this one! A fan of marvel movies he is, this jovial fellow.
Jignesh Patansavangikar
Our little Air Force officer in the making!
This one studies in grade 11 science. He loves reading biographies of scientists and has read about 40 scientists so far including VIkram Sarabhai, Homi Bhabha, Jagdish Chandra Bose, and APJ Abdul Kalam, whom he idolises. He also loves playing cricket and dedicates half hour daily to it and two to reading.
Jiya Rathore
Our little music lover!
Studying in class 11, this one aspires to become an IT engineer. She loves listening to songs and her favourite movie is Genius. Her father has been serving in the CRPF for the last 20 years. She has been a responsible child since the beginning, he tells us, taking care of her studies on her own.
Maulik Patel
Our little budding artist!
This one is currently in grade 11. He dreams of studying in of the IITs and becoming a mechanical engineer, he tells us. He loves playing kho-kho and football and has a keen interest in art as well. He also likes watching informative videos on YouTube and mostly keeps to himself, this shy one!
Poojan Vadodariya
Our little puzzle-solver!
This one is in grade 9 and loves watching informative and craft videos on YouTube. Logic and tinkering interest him, and he loves solving puzzles. He wants to pursue computer science because the future belongs to the Internet and technology. He wants to become like Kunal, our founding trustee, when he grows up!
Rudra Patel
Our outdoorsy little!
Currently studying in grade 9, this one loves outdoor sports such as cricket, kabaddi, and kho-kho. Like his fellow TLI scholars, he also takes keen interest in watching informative YouTube videos and loves watching movies. He wants to become a doctor when he grows up—a cardiologist to be very specific!
Sahil Solanki
Our little maths lover!
Hailing from Ahmedabad and currently studying in grade 9, this one takes keen interest in watching news and learning about current affairs. Maths is his favourite subject and he loves solving problems, he tells us. He loves playing sports such as hockey, volleyball, and cricket, and reading books.
Vishesh Patel
Our little badminton enthusiast!
This one iss in grade 11 science and loves maths and computer science. After completing school, he wants to pursue IT and become an IT engineer. He loves playing cricket, chess, and badminton. He loves badminton the most and is good at it. Virat Kohli is his favourite sportsperson, he tells us.